Beamway Lines Worldwide
Proposed Beamway Lines
These are beamway lines which should be realizable with the technology described in the on-nor.net articles.
The lines are designed to show the possibilities opened up by this beamway technology.
Norway


Description (in Norwegian) with maps

Between Finland and Sweden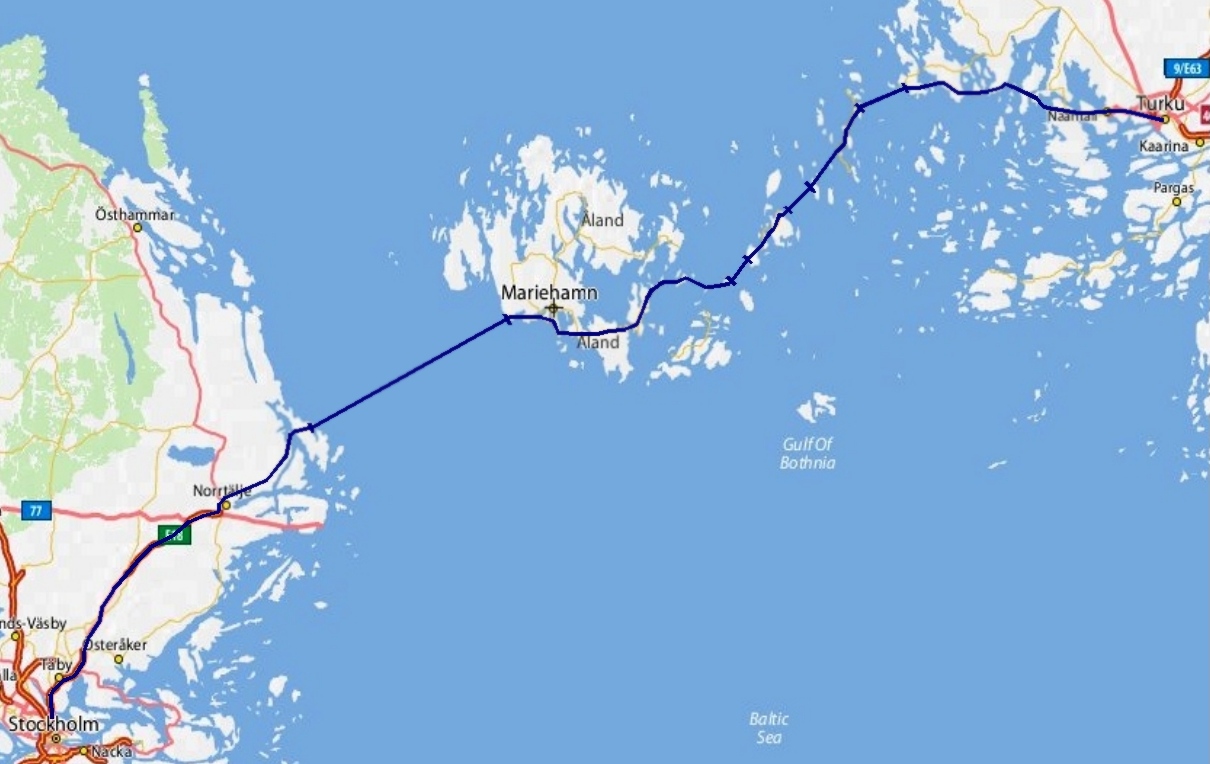 From Turku in Finland, westwards across the island group Åland, and through a 45 km long tunnel (250 m deep), at Sweden. Also a few shorter tunnels may be needed near Finland – three likely candidates are marked in the map – but mostly there will be many pontoons and cable spans.

Across the islands outside Stockholm
Along the south coast of Iceland – where floods washing away the road will pass under the beamway.
Strait of Gibraltar – a 15 km submerged floating tunnel carrying cars – or perhaps rather a 40 km long tunnel (300 m deep).
Present project plans are described in a Wikipedia article.
Netherland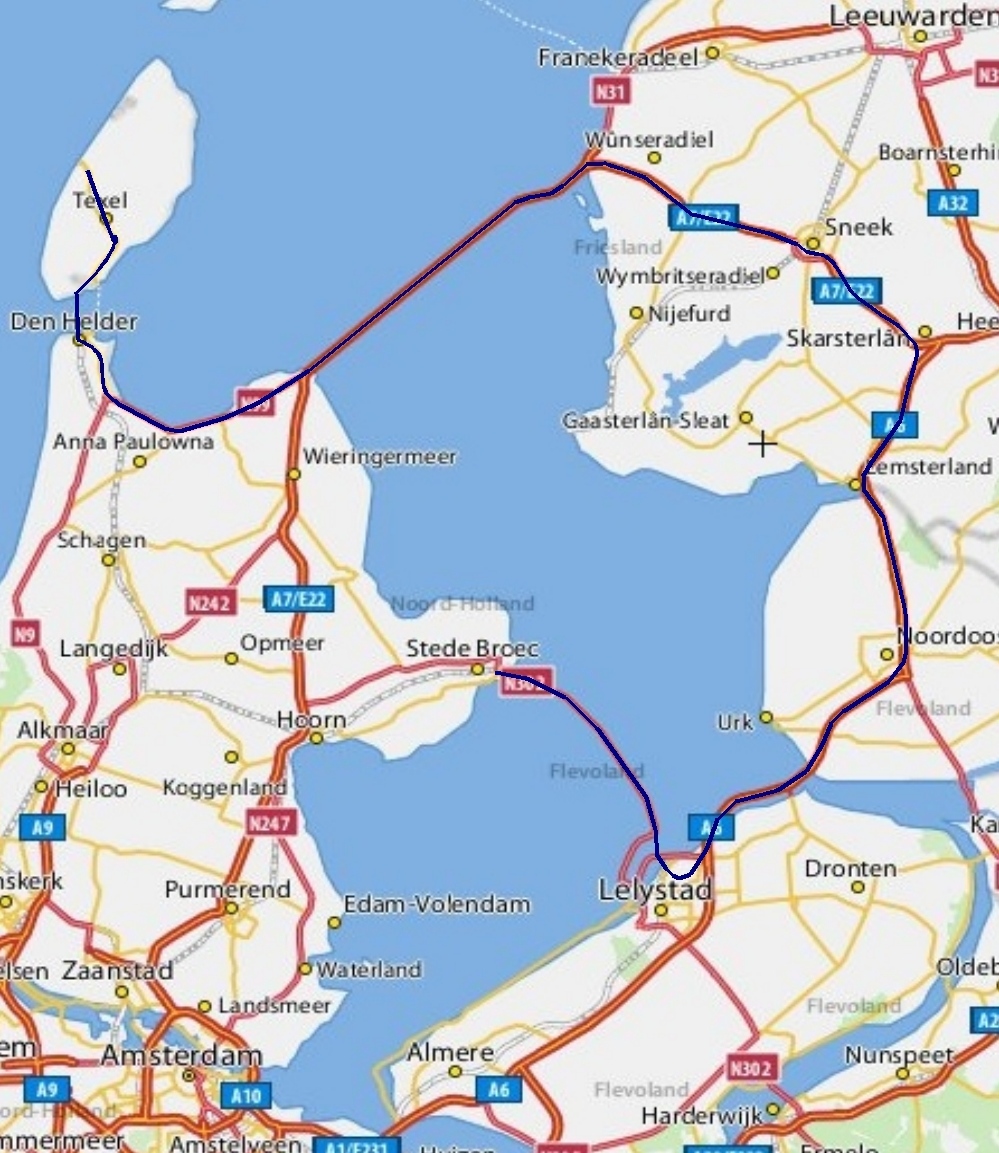 This line goes over the dikes – above the roads.
Maintaining/repairing dikes will be faster and safer when materials and manpower can be delivered automatically and rapidly.
The crossing to Texel should be through a tunnel under the sea.
At Den Helder, the beamway train could put its passenger cabins down upon boats going to England.

Venezia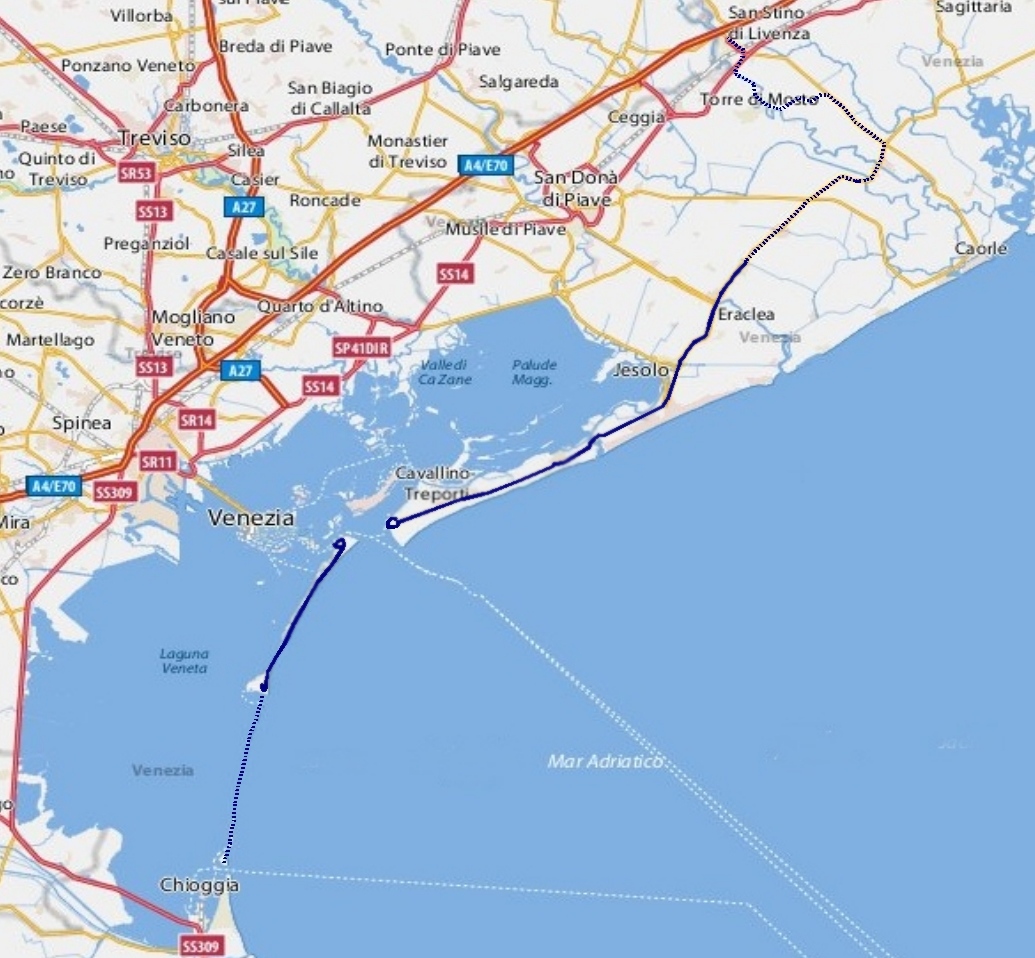 Two lines going towards the city on the Lido – perhaps from the railway stations in Chiaggio and San Stino di Livenza.
At the central end, an exchangeable passenger cabin is lowered down upon a barge, which goes into the canals like an ordinary vaporetto.

From Italy via Corsica to Sardinia. Three submerged floating tunnels: 10+55+13 km.
The waters are here so shallow that submerged floating tunnels will not be needed. The deepest tunnels suggested here are not as deep as the deepest Norwegian tunnels.
Seattle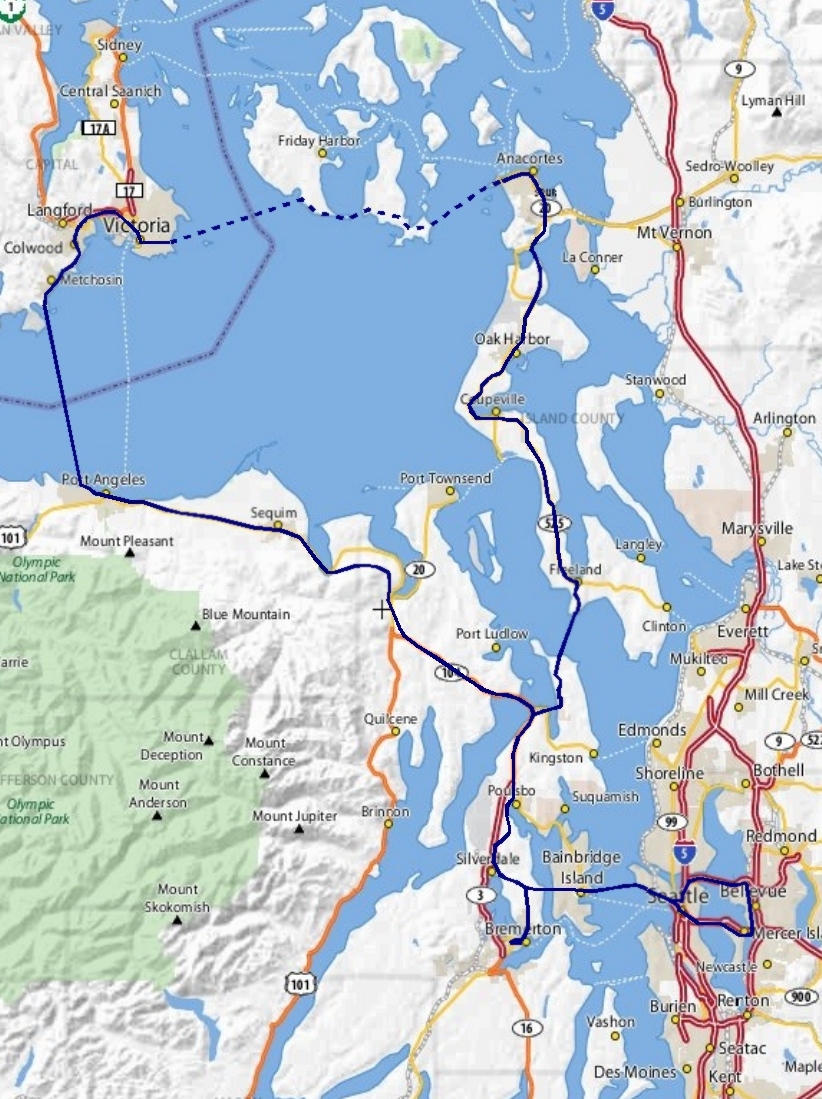 These lines start with a tunnel from Seattle, crossing under the bay between Magnolia and Yeomalt (5 km).
This common trunk splits into three lines, going to Bremerton, Victoria and Anacortes. (The Anacortes line could continue to Victoria as shown by the dotted curve, but a separate Victoria line would be faster and give Port Angeles a connection.)
The long tunnel to Canada will be 23 km. (21 km if the peninsula with indian reserve land can be used)
Some degree of city line function may be useful in Seattle and Victoria.

San Francisco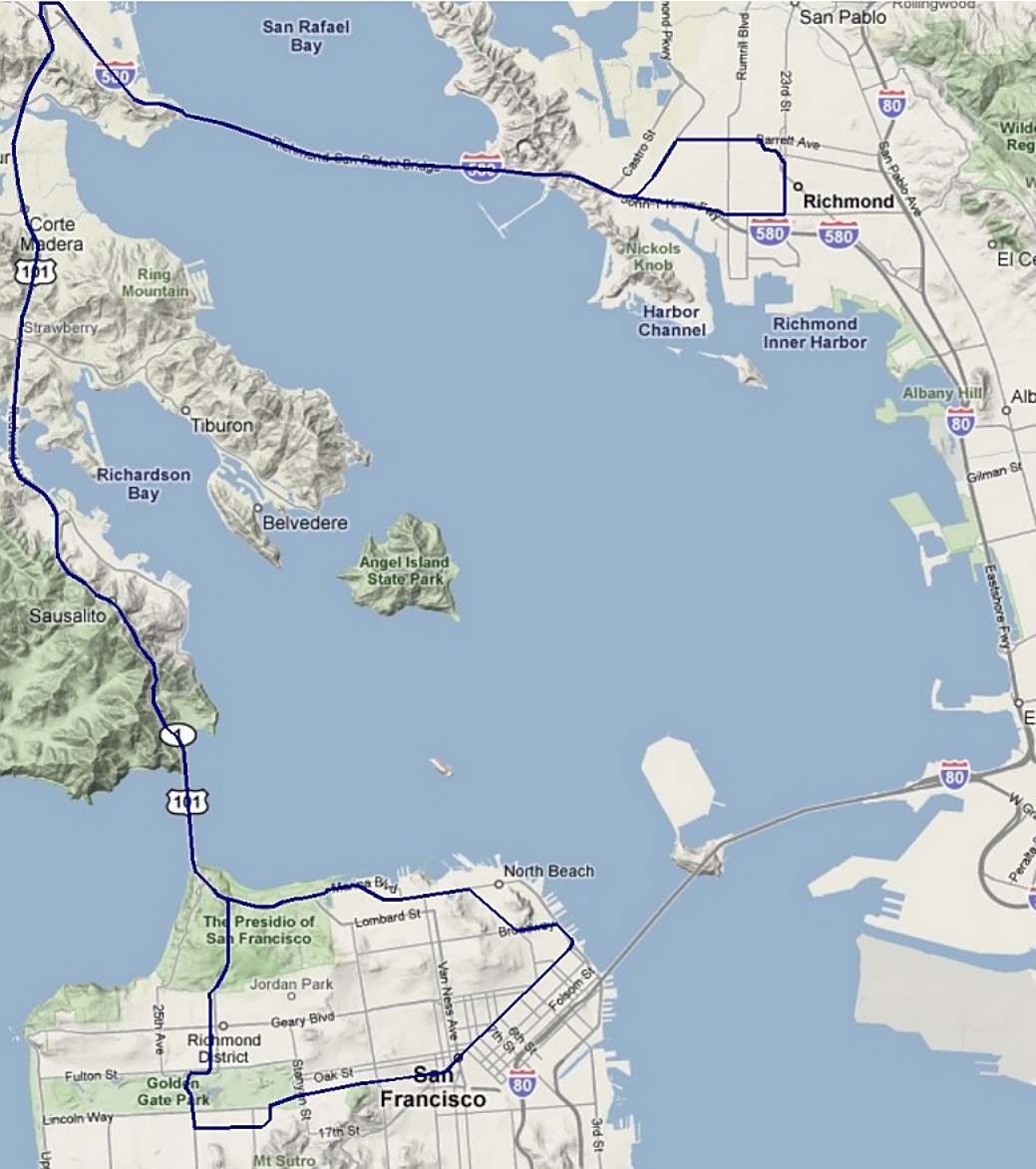 This line gives a fast connection San Francisco-Marin County-Richmond.
Unlike the BART-line on the eastern side of the bay, it can use existing bridges – by running above the cars there. And in each destination city it can take a useful round through central streets.

Western Florida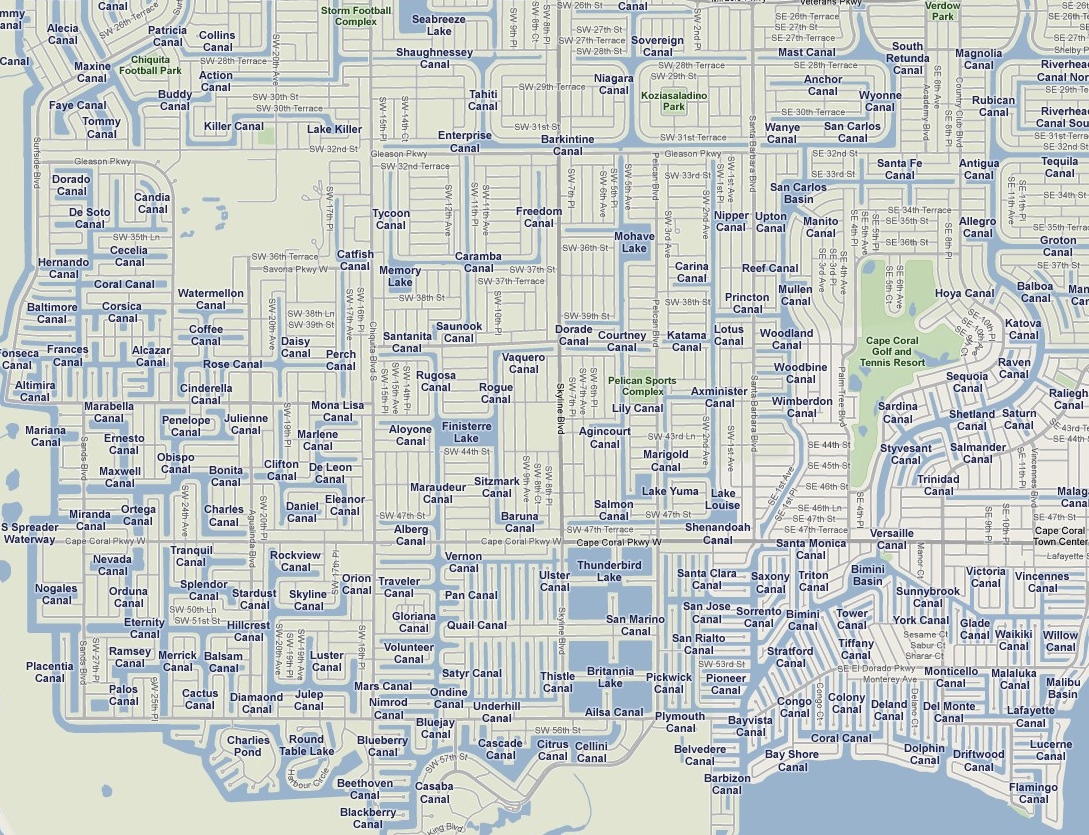 Google maps show railway lines going throughout Western Florida, but a closer inspection using the satellite imagery will reveal that these railways are actually gone. And large areas are thoroughly filled with refinded urban settlement patterns like the one shown in this map – here from the Cape Coral area.
What happens when people there come to their senses and want to get Earth-friendly railway lines in their community? Do they have to put up with conventional railways bulldozing its way through this elegant pattern, imposing a barrier with only some expensive passages?
No, a beamway could follow a street or road straight through, with 99 % less ground razing, and skip canals elegantly.
A beamway could also cross (the Everglade) swamps, held up by pontoons.

From Miami (or Florida City) to Key West. Simply follows the road, but can give high speed by using air cushion hovering. (250 km/h?)
Across the Chesapeake Bay Bridge-Tunnel. Over the road, but will need its own tunnels. Or it can use the old road tunnels if a slit for the beamway's beam is cut in the ceilings of these tunnels. The beamway trains will then go among the road vehicles.
New York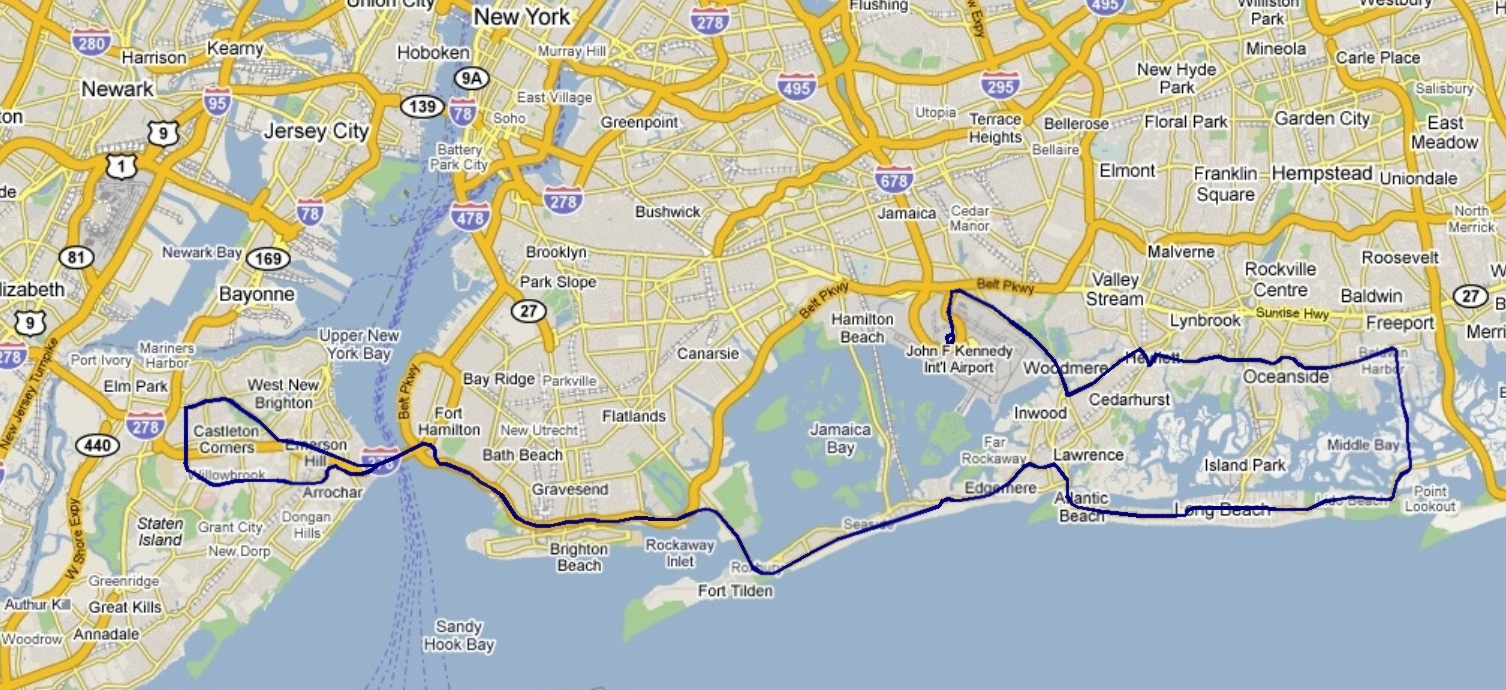 Along Long Beach, and continue westwards at least across the Verazano-Narrows bridge, and/or northwards to John F Kennedy Airport.

Along the Cape Cod peninsula, and (through a tunnel) to Martha's Vineyard
Other Parts of the World
Multi-island countries like New Zealand, Philippines and Indonesia generally lack railways. They might find it unsatisfactory to have railway lines across islands when the sea will block between islands. If these countries used beamways with exchangeable cabins, the sea passages would be far less obstructive, as passenger cabins could be rapidly transferred to boats (barges) at sea crossings. And if islands were later connected by tunnels, the beamway trains could more easily manage the steep grades likely to be found at these tunnels.
Also many other places where busses across bridges are too slow.